Browsing articles in "Uncategorized"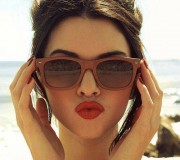 Close your eyes, think about your favorite place, or face, or remember the last time you laughed really hard, and smile.  Just Smile as big as you can. How does that feel? Better, I suspect. And it's not just the memory making you feel good. Recalling the memory without smiling won't have quite the same effect. There's more to it than recollection and mindset. Feeling joy and happiness makes us smile, and smiling alone, whether […]
Why ShadesEmporium.com? In 2001, ShadesEmporium.com was founded by a team of leading eyewear industry professionals. With brick and mortar stores limited by the size of their stock rooms, shoppers could only choose from a handful of styles and finishes. ShadesEmporium.com decided that offering customers a complete selection of styles from each brand (in every color manufactured) would make searching for the perfect shades easy. And with internet sales expecting to exceed $340 billion in the U.S. by 2013, it […]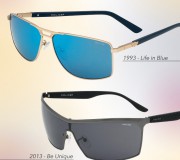 A huge congrats goes to Police for making its mark on the eyewear biz for a whopping three decades! The legendary brand is reveling in its 30-year glory with an exclusive "Icons Collection," featuring sunnies reminiscent of three moments identifiable with various stages in Police's rise to success. Take a looksie at these new interpretations of past styles below! 1983 – Tribute to NY: Police dedicates this model to the Big Apple, with its non-stop energy and cosmopolitan soul […]
A bad kiss is a deal breaker for any relationship. But what if you start dating someone who is a terrible kisser? We list down the top 10 signs that will help you identify whether your date is a bad kisser: Teeth Attack: When you part your lips to kiss, your lips seem to naturally cover your teeth. But, your date accidentally bumps into your teeth which spoils your kiss. Be careful, or he […]
From Blake Lively and Ryan Reynolds, to Kate Moss and Jamie Hince, and of course Kate Middleton and Prince William, there have been some fabulous celebrity weddings in recent years. See Hollywood's biggest and best nuptials of all time….
In today's day and age, you're forty when you're 30 and 35 by the time you push 25! Everyone's aging in a manner straight out of a "not so fun" science fiction movie. Everyone worth their salt has a list that's seeking those elusive little tick marks against the pointers on them. Corporate slavery and demanding responsibilites might not let you stop and smell the roses but you're still a young buck, so perk […]
The term 'Hot' combines attractiveness and physical attraction. The keyword to being hot is SELF CONFIDENCE. When you master this part of the task, which in most cases can't be mastered the whole life (hopefully not yours) you can proceed with taking care of the easier parts, that is, your physical appearance. First of all DO NOT OVERDO! With you makeup, fragrance, deodorant, hairdo, clothing and footwear but even talking, posture, laughing, eating and drinking. […]
The aviator glasses introduced last year are being replaced by a geometric shaped, butterfly and cat's eye sunglasses in the spring/summer 2013 season. Their common feature is unusual form of frames and lenses. Regardless of the model the large size is obligatory as well as almost completely darkened glass. The most popular material of this season is plastic of various colors and patterns (floral, animal) but also made of transparent plastic. Metal frames […]
This new year is about to start and with it a whole lot of new fashion trends, including shades. This is what you can expect this coming 2013: First Hollywood years are going to be in this year, so diva-like shades will be what you'll  be seeing Aviator sunglasses. They never left, but this 2013 they are going to be everywhere! If you didn't get cat-eye during 2012, than this is your moment. You better […]
Sunglasses are a very important accessory that not only protect you from the harmful rays of the sun, but also from rings under your eyes. They are also part of your fashion look, so choose wisely! In order to choose the shades that suit you better, you have to take the shape of your face into account. Oval face shape: Oval faces have it easy, most sunglasses, hats and hair cuts suit them great! A […]