Browsing articles in "News"
Always Wear Sunglasses UV radiation can hurt your eyes just like it does your skin. Effects add up and can cause problems like cataracts, cornea burns, and even cancer of the eyelid. Whenever you're outside — even on cloudy days — wear sunglasses or contacts that block 99% to 100% of UV-A and UV-B rays. Protective lenses don't have to be expensive, just check the label. Hats block exposure, too. Snow, water, sand, and concrete […]
Maria Grazia Chiuri and Pierpaolo Piccioli have written a new syntax of style for Valentino based on precise lines and balanced contrasts. They blend famous looks with hard, metallic inserts that create iconic details.  The eyes are the stars: barely veiled by transparent lenses, they are gracefully and charmingly accentuated by the strong brow-line. This compact silhouette harmoniously blends curves and angles. A fine line of chromed metal runs along the top of this distinctive, sleek […]
This fan blew our mind with his Wayfarer featured optical illusion.
People constantly shy away from long distance relationships, not because it involves work but because they are convinced that the relationship will never work. Being involved in a long distance relationship isn't a piece of cake but a happy ending is possible!  Here are five ways you can make a long distance relationship work: 1. Get texting Not only is it cheaper but it is also faster. We understand that lengthy phone calls […]
We all have that one person that never gets tired of liking our posts, commenting on our photos and tracking our every move through our check in's on Facebook! Here are some things you can try to get them to stop stalking you on Facebook: 1. Be Honest If you aren't comfortable with a certain person's actions be honest about it and tell them that you don't like their posts and support your answer […]
The aviator glasses introduced last year are being replaced by a geometric shaped, butterfly and cat's eye sunglasses in the spring/summer 2013 season. Their common feature is unusual form of frames and lenses. Regardless of the model the large size is obligatory as well as almost completely darkened glass. The most popular material of this season is plastic of various colors and patterns (floral, animal) but also made of transparent plastic. Metal frames […]
Edwin H. Land from Zürich, Switzerland invented his Polaroid filter in 1929 and began experimenting with making lenses with this filter, thus creating polarized sunglasses in 1936.  His first sunglasses with polarizing filter were the so called Polaroid Day Glasses. Among the first who popularized this type of lenses where the boaters and fishermen because they needed the reduction of reflected glare from the water. Today all outdoor enthusiasts, such as skiers, bikers, golfers […]
We already wrote about importance of eye protection, but what about kids?! Why do kids need to wear sunglasses? Sun safety is a concern for people of all ages but it is of crucial importance for the children who are way more susceptible to retinal damage from UV rays than adults. In a child's lens 70% more UV rays reach the delicate retina. The child's lens is also clearer than an adult lens, enabling more […]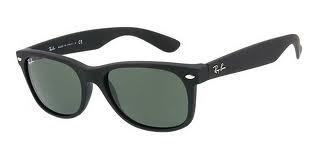 The Ray-Ban Wayfarers are one of the most fashionable styles of sunglasses in the world, presently. The two most fashionable styles of Ray-Ban Wayfarers are the standard RB2140 and the new Wayfarers, the RB2132. Whereas both may have a parallel look and style, they do have foremost differences which regulars ask about all the instance. Ray-Ban RB2140: This is the classic style of Ray-Ban Wayfarers that have been around for a long time. There is something […]
Check it out, its up and running. We have a $10 off coupon on there as well. Love you all!