Browsing articles in "Articles"
Are you ready to celebrate Cinco de Mayo? In between all the tacos and the guacamole, don't forget about sun protection: sunscreen and sunglasses! Make the latter cool and colorful as can be, inspired by Mexican culture: 1. The celebration of Cinco de Mayo wouldn't be complete without wild, brightly colored flowers everywhere! So it's safe to wear them on your sunglasses these days! The floral Kate Spade sunglasses are an excellent choice that you'll […]
British models Neelam Johal, Matilda Lowther and Malaika Firth wearing silk London trench coats in stormy shades of blue, grey and pink Under the creative direction of Christopher Bailey, the campaign was shot by Mario Testino Music: 'Man on the Moon' by Jake Bugg http://youtu.be/wcXUGOjCj9g
Always Wear Sunglasses UV radiation can hurt your eyes just like it does your skin. Effects add up and can cause problems like cataracts, cornea burns, and even cancer of the eyelid. Whenever you're outside — even on cloudy days — wear sunglasses or contacts that block 99% to 100% of UV-A and UV-B rays. Protective lenses don't have to be expensive, just check the label. Hats block exposure, too. Snow, water, sand, and concrete […]
Maria Grazia Chiuri and Pierpaolo Piccioli have written a new syntax of style for Valentino based on precise lines and balanced contrasts. They blend famous looks with hard, metallic inserts that create iconic details.  The eyes are the stars: barely veiled by transparent lenses, they are gracefully and charmingly accentuated by the strong brow-line. This compact silhouette harmoniously blends curves and angles. A fine line of chromed metal runs along the top of this distinctive, sleek […]
This fan blew our mind with his Wayfarer featured optical illusion.
Christina Applegate in Dolce&Gabbana sunglasses Christina Applegate is no longer miss Applegate! You may now address her as Mrs. LeNoble! Applegate and her longterm boyfriend, Martyn LeNoble, tied the knot and recently announced it to the public! The 41 year old actress and the 43 year old musician got married in a private and small ceremony, surrounded by their family and friends. The two have been together for 5 years now, and they have a […]
When it comes to sunglasses, the choices are endless especially with the internet! The immensely wide selection can be overwhelming. There are different styles, various lenses and frames and numerous brands. And the selection gets bigger and bigger, with every year passing by. What continues to be popular through the years are classic, timeless pieces that never go out of style. Men are most known to stick with these time-honored sunglasses that just […]
Some of the fall-winter 2013 campaigns are already out, so let's see some of the best ones: Diane von Furstenberg Fall Winter 2013 campaign 10. Diane von Furstenberg tapped Daria Werbowy to play the rock goddess for the fall line, photographed by Sebastian Faena at nighttime. Daria is wearing soft pink colored aviators in one of the pics, together with animal print and snakeskin.   The Marc by Marc Jacobs FW13 campaign 9. Marc by Marc Jacobs once again features kitschy photos for […]
It seems that Victoria Beckham managed to prove everyone wrong when they said she couldn't design and soon her classycreations conquered the fashion realm. Whether we are talking about dresses, sunglasses or beautiful accessories, her impeccable style can be seen in everything she creates. And the Victoria Beckham spring/summer 2011 eyewear collection is one good example in this sense. Victoria Beckham definitely knows what a woman really needs to wear in order to feel feminine and sexy. From her […]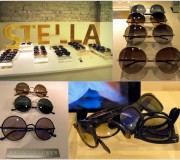 Although the term heirloom is thrown about with some frequency within the world of luxury watches and jewelry (more often than not in an attempt to justify astronomical prices), it is not often associated with the increasingly disposable arena of eyewear. Desirable as designer sunglasses may be, few brands employ the precious materials. From top left; Versace, Prada, Stella McCartney, Paul Smith, Miu Miu The collections from Prada, Miu Miu, Stella McCartney, Ralph Lauren, Paul Smith, Versace, and […]