Browsing articles in "New Products"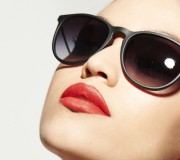 Once summer hits, many opt  for pared-down makeup and do away with the dark shades and heavy foundations of cold-weather months. This makes it the perfect opportunity to focus on the lips—and what's a better way to highlight them (and add some UV protection) than testing out combos of the season's newest lipstick and sunglasses? For a fun change, swap your traditional tortoiseshell sunnies for bold frames, and even bolder lip colors.   Bobbi Brown  and Giorgio Valentino […]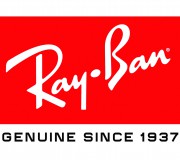 Ray-Ban is a brand of sunglasses and eyewear founded in 1937 by American company Bausch & Lomb. The brand is best known for their Wayfarer and Aviator styles of sunglasses. Ray Ban Junior brand of eyeglasses is the universal best – seller brand for kids. The eyewear is of extraordinary quality combined with a youth free style great for kids and feature lenses with 100%protection against UV light rays. Ray Ban cater caters to the youngster and […]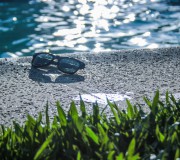 You see the entire world with your beautiful eyes. How much care do they need? Do you wear sunglasses just to look fashionable? The fundamental reason is to protect your eyes from the bright sunlight. But, is this the only reason you wear them? Definitely not. First of all, yes, you must wear sunglasses to protect your eyes from the sun. You take good care of your skin, your hair, your feet, but what […]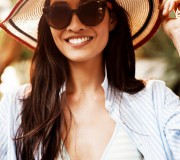 Tommy Hilfiger Sunglasses Tommy Hilfiger designer eyeglasses mostly have Zyl frame front, spring hinges for a customized fit, and adjustable nose pads would truly make someone that is on the cutting edge ready to face the demands of the modern world. Hip, classy, cool, comfortable, and trendy are what Tommy Hilfiger designer eyeglasses offer to anyone that is classic and yet modern, trendy and yet responsible looking individual. So anyone who wants to enhance and […]
Bifocals and trifocals lenses have been around for many years to help us over age 40 deal with the normal age-related loss of near vision. History Of Bifocals and Trifocals Benjamin Franklin, the early American statesman and inventor, is credited with creating the first multifocal lense for eyeglass. Prior to Franklin's invention, anyone with presbyopia had to carry two pairs of eyeglasses — one for seeing distant objects and one for seeing up close. Sometime around […]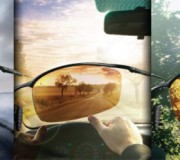 The glare of Sun causes squint and strain to eyes. Long term Sun's exposure of the eyes causes a lot of problems such as cataract, macular degeneration and cancer of the eyes surrounding the skin. Yes, it is true sunglasses are now more than an accessory or fashion statement. They have become a need now. Good news is that the eye wear brands are adjusting according to the needs of the people. Using tinted lenses without UV protection is […]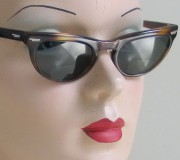 Ultraviolet radiation is present in sunlight. The Sun Rays can cause serious damage to your eyes, so it's important to protect them. UV rays can damage your skin, but also harm for your eyes. The Sunglasses should block 100 percent of Ultraviolet Rays and also absorb most HEV rays. Frames with a close-fitting wraparound style provide the best protech because they limit how much stray sunlight reaches your eyes from above and beyond the periphery […]
Moschino eyewear? If you wear sunglasses, you cannot afford exhilaration that no amount of money can fill. Speaking of quality, the focus of the eyewear business has been pouring in a Moschinos sunglasses. Take pride than and pay homage to Moschino. http://www.shadesemporium.com/sunglasses/Womens/Moschino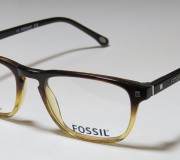 Fossils frames and accessories offered wide diversified colors, patterns and superior quality of product. Fossil prescription eyewear is a good choice for the modern and flexible man and women because of its elegant and stylish design. Fossils eyewear is available in your favorite eyewear store worldwide infact you can order it online so grab it now.  
Maria Grazia Chiuri and Pierpaolo Piccioli have written a new syntax of style for Valentino based on precise lines and balanced contrasts. They blend famous looks with hard, metallic inserts that create iconic details.  The eyes are the stars: barely veiled by transparent lenses, they are gracefully and charmingly accentuated by the strong brow-line. This compact silhouette harmoniously blends curves and angles. A fine line of chromed metal runs along the top of this distinctive, sleek […]